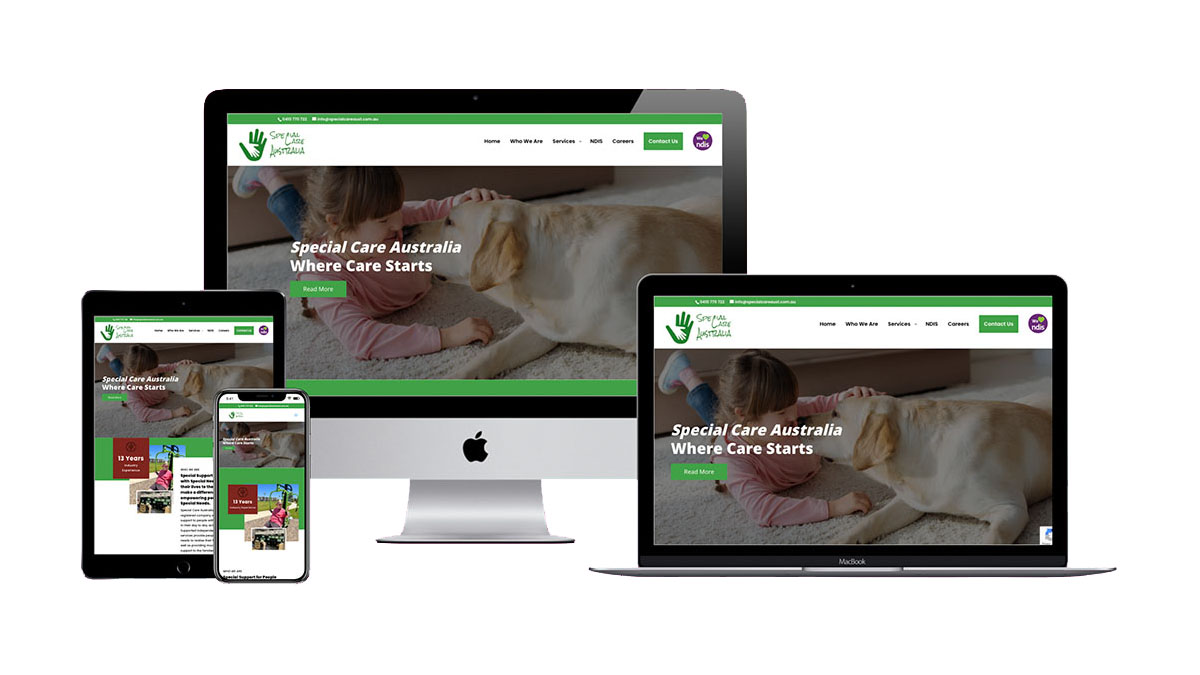 What a great website can do for YOUR business?
When someone looks for you online, he doesn't search for your name or your LinkedIn bio but searches your website's name on search engines. So, your website is your first introduction to your potential client; thus, it cannot be one shabby looking website, it - must be crisp, pretty, and easy to use without any technical jargon. It is the impression that it leaves on the user that showcases how your website performed and if you need to change it.
Unfortunately, many service providers believe a need for a website is an extra burden on them, however, to build your clientele, don't you think you need a proper introduction?
As per data, 80% of users in Australia choose a service provider based on what information is provided online rather than going around the block looking for providers. Apart from that, across Australia, there are more than 10,000 searches for 'home assistance', 'NDIS providers near me, and 'disability service provider', so if you still think a website isn't your first priority, it's time to rethink.
A GREAT website is a way for you to promote your business and increase your clientele without moving around the block, expecting your friends to refer you or baking cookies to get clients. So, remember, a website is your best friend when it comes to building, and promoting your business. However, a lot goes behind the creation, you must come up with colours that are user friendly, logo design, automation, blogs, graphics, SEO, SEM, and more. Your website must be simple; it must be user friendly and most importantly it should talk about your business and what you can do for clients.
We understand that it might seem like a hurdle but one that is necessary. To understand the concept of website management better, let's look at what necessary pages and technology should be considered:
Website Content
Your website doesn't have to be flashy to garner the attention of the users, it simply must be essential. It should include pages such as features, About Us, contact us, testimonials and more, which can increase the user experience and should have SEO specific keywords to garner better rankings.
Service pages- Features, testimonials and more
Your website is your introduction. Introduction to your business model, what you provide and what other clients feel about your services, is the face of your company. Hence, your website's main page should be its service page- the features you provide. For instance, 'Website developer for NDIS providers' or 'Aged care support services, are the services you provide to the users and your website should brag about the same.
These pages are the face of your business; thus, they must be the most persuasive pages with examples, photos, and how they helped other users.
Another page that any NDIS service provider or NDIS support service should add is video testimonials from their current users. This gives a very user-friendly look and motivates others to trust and join you.
Also, do not forget as you are an Australian NDIS registered Service provider, your website should have a privacy and terms & conditions page to be compliant with the Australian rules and regulations. Tip: Link these two pages to the website footer and save space for adding more pages.
Easy Web Navigation
If your website is filled with technical jargon, the user wouldn't be able to understand the content and moreover would leave the website to find a better competitor which can help him ease out his problems. Thus, the navigation must be easy. They should be able to find key pages with a click. However, if you are confused as to what should your website entail, think from a user perspective. What features do you provide that can help them? How can they contact you in case of a query? Such questions can help you make the best website as a NDIS service provider and make sure users are able to find you.
Mobile friendly optimisation
It is assumed that the website which is desktop friendly would work as effectively on a small screen- mobile phones as well. Sadly, that's not the case. They wouldn't just have to zoom in to see the content on your website, the text would be too small, even the cions would be, which would lead to customer dissatisfaction. Thus, in this era of technological upgrades, no one until and unless has a laptop opened in front of them would specifically open the screen to check out your website, they will google it and read about your website, via their mobiles. Thus, your website should be optimised for mobiles as well. However, if you are confused as to who can make your website mobile-friendly, well, it's your website developer.
Blogs and SEO optimisation
Your target audience during NDIS provider website creation does not pertain to disabled users only, but their family, friends, colleagues, and other peers who might come across your website. So, to make your website far more accessible the trick lies in SEO optimisation. But you can't simply insert keywords and expect your website traffic to increase, the content should make sense as well, right. So, to reach a wider public with your website, Blogs can be your best friend. You get to talk about your features, your business, why should they choose you and more, with the right trick of inserting keywords at an optimal level. It improves your website ranking and helps in bringing higher organic search results.
Easy to use and accessible
From language to easy navigation, as an NDIS service provider, your website should be far more user friendly than others. Whether it is the font, or colour combination to easy tone and language, your website should encourage the user to remain on the same and not push them to leave.
It can seem overbearing, yes, to incorporate so many things, but that's what professional website development is all about. Easy interface. User friendly. Easy accessibility. So, if you are on the lookout for a website developer for NDIS service providers, have a look at SupersonicIT.Digital. They made sure our website is customised, easy to navigate, user friendly, easy to access, SEO optimised, and much more.
If you are a support coordinator, check out our all-in-one blog for support coordination here
---
Date: May 16, 2022